We Are The Technology Game Changer
We offer a range of B2B digitize services to help businesses thrive in the digital landscape. Our services include:
Web Development: We specialize in creating custom websites that are visually appealing, user-friendly, and optimized for performance. Whether you need a corporate website, e-commerce platform, or web application, our team can deliver tailored solutions to meet your specific requirements.

Mobile App Development: We design and develop mobile applications for both iOS and Android platforms. Our mobile apps are built with a focus on intuitive user experiences, seamless functionality, and high performance to enhance engagement and drive business growth.

SEO (Search Engine Optimization): Our SEO services aim to improve your website's visibility in search engine results pages. We optimize your website's structure, content, and keywords to attract organic traffic, increase rankings, and drive targeted leads to your business.

Digital Marketing: We provide comprehensive digital marketing strategies to help businesses reach their target audience and achieve their marketing goals. Our services include social media marketing, pay-per-click advertising, content marketing, email marketing, and more.

PHP Development: We have expertise in PHP development, offering robust and scalable solutions for web applications and websites. Our PHP developers utilize industry best practices and the latest frameworks to deliver secure, efficient, and feature-rich PHP-based solutions.

Machine Learning: We leverage machine learning techniques to develop intelligent applications that can analyze data, make predictions, and automate processes. Our machine learning solutions can help businesses extract valuable insights, improve decision-making, and enhance customer experiences.
With our B2B digitize services, we aim to empower businesses with the digital tools and strategies needed to succeed in today's competitive landscape. Our experienced team combines technical expertise, creativity, and industry knowledge to deliver solutions that drive growth, engage customers, and maximize business potential.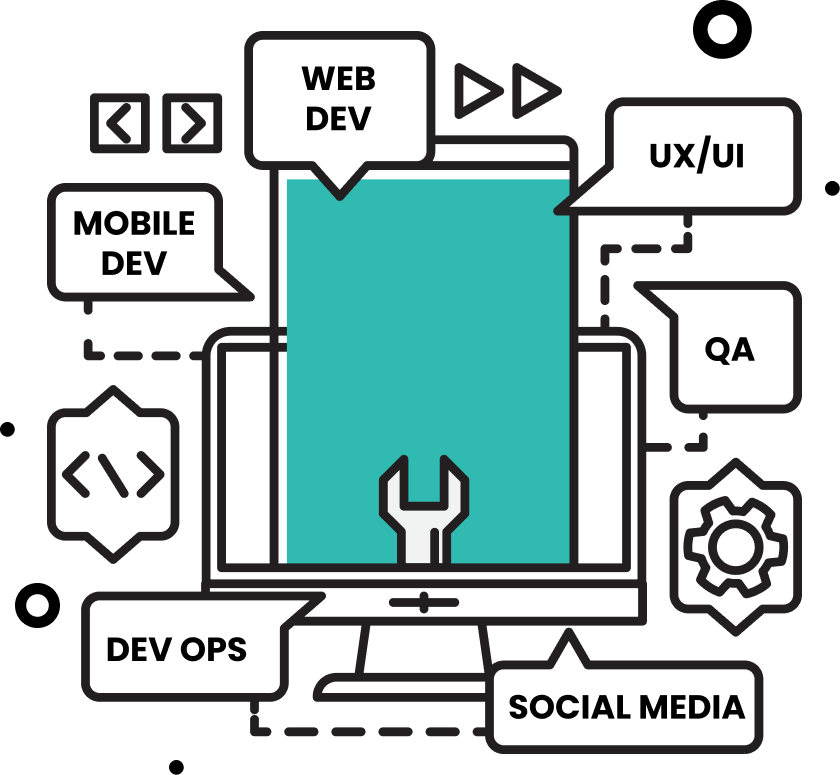 Creative Web Application Solutions for
every phase of Your Business Development
B2B Wholesale E Comerce
B2B & B2C Hybrid E Commerce
B2B Multi-vendor Marketplace
B2B Wholesale ERP
SEO & Digital Marketing
Custom Software Development
B2B Wholesale E Comerce
B2B Wholesale E Comerce
B2B wholesale e-commerce refers to the buying and selling of goods and services through an online platform, specifically between businesses. B2B wholesale e-commerce is different from B2C (business-to-consumer) e-commerce, as it is focused on sales between businesses, rather than sales to individual consumers. Some examples of B2B wholesale e-commerce platforms include Alibaba, ThomasNet, and Global Sources. These platforms allow businesses to find and purchase products and services from other businesses, often at wholesale prices. They may also offer features such as bulk purchasing and custom order fulfillment.
B2B & B2C Hybrid E Commerce
B2B Multi-vendor Marketplace
B2B Wholesale ERP
SEO & Digital Marketing
Custom Software Development
Our scope and depth of expertise is beyond and average
web design business. This is what your
finished work will look like.
We work as a technology partner for various industries.
Our expertise can be applied to the specific demands
and nuances in your industry.
ENGAGEMENT MODELS AND
PAYMENT
We gather a project team that iteratively creates the product with maximum speed and by applying an agile methodology. You pay for the week or month of work completed by the team. Suitable for early-stage startups when the product needs to be discovered along the way. Less planning needed and a faster start
Managed Fixed Price Product
We take full responsibility of your product, from user and market research to design, development and maintenance. Suitable for the first version of the project with a fixed budget. Requires more planning and investigation before commencement.
When we released the product and there's no need for major new changes, we offer a Support contract, during which our team is always ready to make small regular changes to your project in response to the user feedback, platform updates or force-major events.
Get a free consultation and estimate for your project!